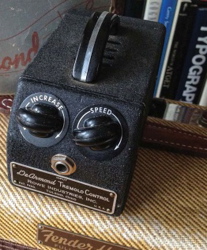 Premier Guitar's February 2013 issue contains an article by Chris Kies on the first guitar effects pedal, the early 1940s DeArmond Tremolo unit. I was happy to assist. Although the article is titled "Late 1940s DeArmond 601 Tremolo," the photo shows a unit from the early 1940s.
My DeArmond page is here:
The article is here.