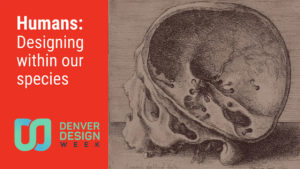 Following up on the "humans" theme from my recent Bluetooth World presentation, in my keynote talk at Denver Design Week last week I spoke about design and humans. Questions I posed during the talk included: Why is design so difficult?, Why are females so difficult?, Why are we so bad at math?, and Why are we so bad at music? In addition, why we should stop booking conference rooms. And finally, coinciding with the baseball playoffs: What's up with the Infield Fly Rule?
The central part of my talk focused on design and behavior. Based on my decades-long experience in usability I organized influences on behavior in a hierarchy. At the top of the list is instinct. We have approximately a 50,000 year history of "modern human behavior." Universally, we will first react according to instincts acquired over that time. Where possible, it's advisable to design to our instincts – for instance, using of red as a sign of danger. However, there are no instincts for the majority of our design-related actions today. We haven't been driving cars or using smartphones for 50,000 years.
Next in line for the determinants of behavior are preconceptions. These are difficult or impossible to predict, vary according to the individual, and can result in the most odd and unexpected behavior in a person, despite our best design efforts.
As designers, we have no control over these first two. Our design influence therefore entails, in descending order: 3-dimensional design cues, 2-dimensional design cues, complex graphics, extended text, quick reference guides, and as a final resort, the instruction manual. Or at some point in the sequence, sound or voice cues. Or someone may check Google, YouTube, or call a friend for help. In the big picture, external factors will of course also have an impact on how we behave (economic, social, etc.) – I focused this talk specifically on design and interaction.
Max Burton, at Fjord, gave a great talk just ahead of my presentation on Tuesday: "The Personalization of Everyday Life." On Thursday Surya Vanka, formerly Chief of Staff of Microsoft's User Experience Leadership Team, spoke about his experience at Microsoft, and his current work: "Win by Design: Lessons from the Frontlines."
The weather in Denver was great.